It is with the heaviest heart that I haven't felt since my father passed away, I tell you that Daisy has gone to visit my dad. Daisy went quietly in her sleep on April 18, 2009. Daisy had developed 'boxer cardiomyopathy', a disorder that causes the heart to beat erratically (to have an arrhythmia) which resulted in her passing. I like to say that she had just too big of a heart for her little body.

For those of us who had the pleasure to be a part of her life, you know just how much of an amazing soul 'mommie' was. Daisy was 13 weeks old when I brought her home. Daisy had two litters. Her first, brought Junior and Harley. Her second, Roxy, Kona and Cooper (RIP). She also played the mother role to Lacey (my second boxer).

Daisy loved to run. Her favorite things were: fetching the tennis ball, running next to me on my beachcruiser and her never-ending attempts to outwit and catch the laser pointer always made everyone laugh with joy. She knew so many commands and tricks. She truly was a smart dog.

You were my best friend and one of the few women that I have loved in this hardened heart. I have never understood 'unconditional love' in my life but it has been licking me in the face for the past eight years. There is now another matching hole in my heart that can never be filled. Thank you for teaching me to learn how to love again, I will forever miss you...


To learn more about 'boxer cardiomyopathy' please click here: Boxer Cardiomyopathy

Daisy and I support Boxer Rescue Los Angeles. Please click here: Boxer Rescue L.A.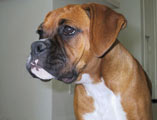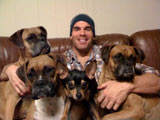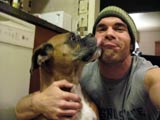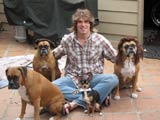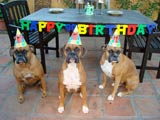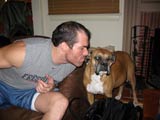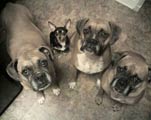 This site will continue to be updated. Please check back frequently.